It takes hard work, and for most, at least four years to graduate from high school or college. The commencement ceremony is the finale; the moment to hear your name read and walk across that stage, shake some hands, smile, and be proud. Everyone's name deserves to be heard clearly and the audience wants to see the reaction on your face – that pride as you accept your diploma.
With proper planning, commencement ceremonies can go off without a hitch.
Indoor setups usually include:
a main stage with ADA ramp access or a wheelchair lift
LED or projection screens and cameras for image magnification
a sound system, and
—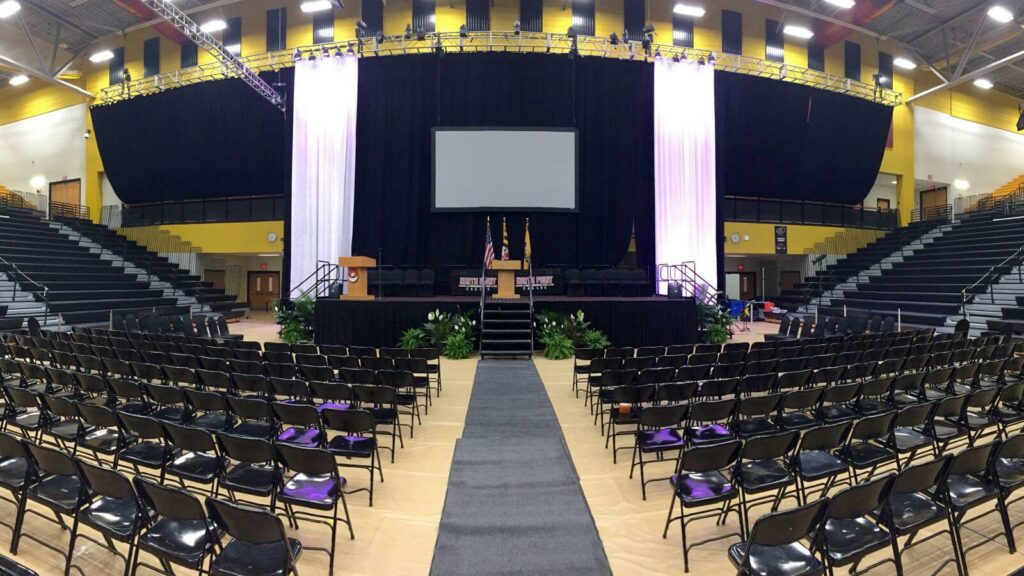 The same building blocks can be used for outdoor setups but usually on a larger scale.
stage roof for weather protection
accessory stages for the band or choir
weathertight tech area or front-of-house structure
audio/video delay towers
signage structures
But outdoor ceremonies are ruled by the weather. Contingency plans are essential to the safety of the students, guests, and event staff. Best practice is to have an indoor site ready and waiting in case of foul weather. A weather monitoring service gives us access to a meteriologist and the most accurate, real-time information to drive decisions. Safety briefings help define everyone's role and our structures are certified by a professional engineer to withstand conditions up to limits set in a High Wind Action Plan.
Many times school districts or counties maximize their value when buying AV support for commencements by holding ceremonies for different schools over the course of one or more days. Using setups optimized for interchangable branding and signage, the look and feel of the same space can be transformed and easily customized for each school.
Other services that can be important for getting the message across include:
webcasting
captioning
teleprompter
We make sure faces will be seen and names will be heard for graduates, parents, and friends. With more than 30 years of experience, Event Tech provides professional staging and AV support for commencement ceremonies.